RaceRunning (also known as Frame Running) is a sport designed for athletes with disabilities and balance impairments. Athletes use a running bike, called RaceRunner, which features a three-wheeled frame with saddle and body supports and no pedals. they should have the ability to steering the bike
The RaceRunner bike allows individuals with Cerebral Palsy, Muscular Dystrophy, Parkinson's Disease, spasticity, and other disabilities that impede balance and mobility, to walk and run under their power. Athletes competing in a variety of distances similar to the traditional track meet, from 40-3000 meters. Currently, RaceRunning is being developed by CPISRA: Cerebral Palsy International Sports and Recreation Association.
The RaceRunning (Frame Running) was born in Denmark in the 90s.
There are currently 30 countries internationally with registered RaceRunning participants. Most are in Europan Union like Portugal, Denmark, Sweden, Norway, Nederland, Germany, Scotland and others plus Brasil, USA and Australia.
CPISRA and Paralympic Competitions
CPISRA manages the CP sport internationally. They have developed a classification system only for CP athletes with specific profiles. In addition to being included in the CPISRA Games, RaceRunning has also featured on the program for IPC and IWAS Youth Games. As of 2018, RaceRunning is a recognized Para-Athletics event, however, it is not currently on the Paralympic program.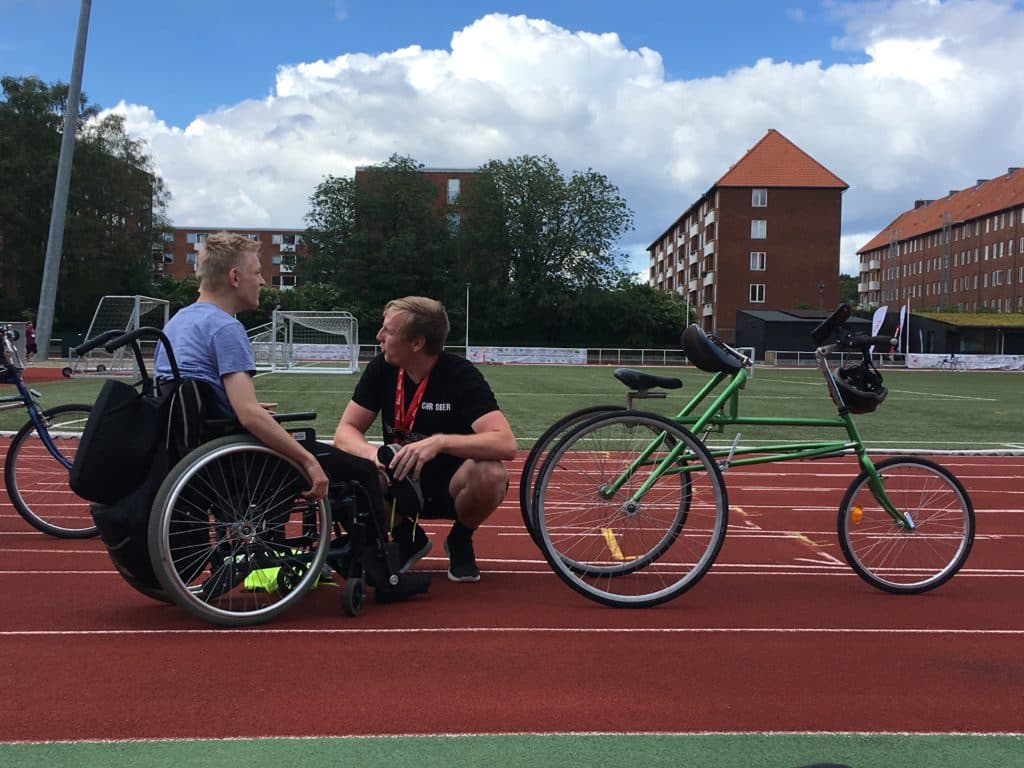 HOW TO RUN WITH RACERUNNER
A RaceRunner is a custom-built three-wheeled frame where the runner is fully supported by a saddle and leans against chest support, propelling themselves forward by the feet (one or both), while using the hands and/or arms to steer.
The low center of gravity and frame design offers good stability and poise while running or walking. The saddle unit counteracts lateral sway and can be used as a seat when resting.
Running with the RaceRunner is a fun and low impact activity that can be enjoyed with family, friends, and non- or disabled peers. It can open a whole new perspective on your abilities and opportunities, as well as a wide range of social interaction and learning experiences.
 WHO CAN PARTICIPATE IN RACERUNNING (FRAME RUNNING)
As per the CPISRA RaceRunning classification guide, the following impairments can join to RaceRunning (Frame Running).
 Hypertonia
 High Muscle tone
Spasticity
 Spasticity is a velocity-dependent resistance of a muscle to stretch.
Dystonia
 Dystonia is an involuntary alteration in the pattern
of muscle activation during voluntary movement or
maintenance of posture Sustained or intermittent
Muscle contractions.
Rigidity
 Rigidity is resistance to passive movement and is independent of posture and speed of movement. rigidity is not specific to particular tasks or postures.
 Ataxia
 Control of voluntary movement
Athetosis /Chorea
 Involuntary contractions of muscles
BASIC RULES OF RACERUNNING (FRAME RUNNING)
Please click here to download the Rule Book from CPISRA that is used at national/international events.
Classification
The CPISRA RaceRunning classification system has been designed to minimize the impact of impairment on the outcome of Competition so that Athletes who succeed in competition do so on the basis of their sporting ability.
In order to achieve this purpose, Athletes are classified according to the extent of Activity Limitation resulting from their impairment.
The term "classification", as used in these Rules, refers to the process by which Athletes are assessed by reference to the impact of impairment on the performance of CPISRA RaceRunning. It is intended to provide a framework for fair competition and to ensure that competitive success is determined by the strategies, skills, and talent of Athletes.
The Current RaceRunning Classification included three different Classes as RR1, RR2, RR3.
RR1: Severe involvement of lower limbs and trunk, ineffective leg propulsion, poor trunk control, and upper limb involvement
RR2: Moderate involvement of lower limbs and trunk. Asymmetry but more effective propulsion than RR1.
RR3: Mild to moderate involvement of one or both upper limbs, fair to good trunk control. Good push off and no startle reflex
For more information about CPISRA's RaceRunning classifications click here.