Silence! that you intend to play football… while blindfolded!
If you think Cristiano Ronaldo and Lionel Messi are great with the ball at their feet, do a quick search for names like Jefinho (Brazil) or Behzad Zadaliasghari (Iran), who are football players for the blind and are amazing how they dominate the ball and move around the field blindfolded!
Football 5-a-side is a relatively new sport in the Paralympic Games program, having debuted at the 2004 Athens Games with only six countries competing (Argentina, Brazil, France, South Korea, and Spain) There will be eight teams in Tokyo (Argentina Brazil, France, Spain, Morocco, Thailand, China, and Japan).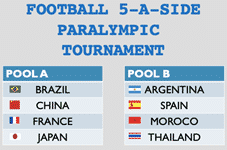 Football 5-a-side is a sport played in 35 countries and 5 continents for athletes classified as B1 (totally blind). And, while there are currently no women's teams competing in the Paralympic Games, there is a strong desire for this to change, and there are already six countries with women's teams, with Japan serving as a major booster for the development of women's football!
Football 5-a-side takes the field at the Paralympic Games on August 29th and concludes on September 4th with the two medal match games. Brazil is the only country that has won Paralympic gold in this sport to date! Brazil won all four games in which Football 5-a-side was present! The final at the 2016 Rio Paralympics was between Brazil and Iran, but Iran did not qualify this year. Brazil, Argentina, and China will be the three favorites in Tokyo, while Japan and Thailand will be the rookies, promising not to make it easy for any of the opponents.
Make a note of the 5-a-side Football Games schedules, and don't miss out on watching the incredible games that will take place in Tokyo!