The first international online conference on RaeRunner for the people with disability, on 9/9/2020 from 9 AM till 4 PM (Local Time) organized by the Authority Person Disability (APD) in Saudi Arabia and open to the audience.
Interested people can join FREE through the Zoom application and software to the international conference, and the registration form is on the link below. After online registration, you will receive an online invitation letter to join.
The speakers are from Saudi Arabia, United Kingdom, Denmark, Nederland, and Sweden.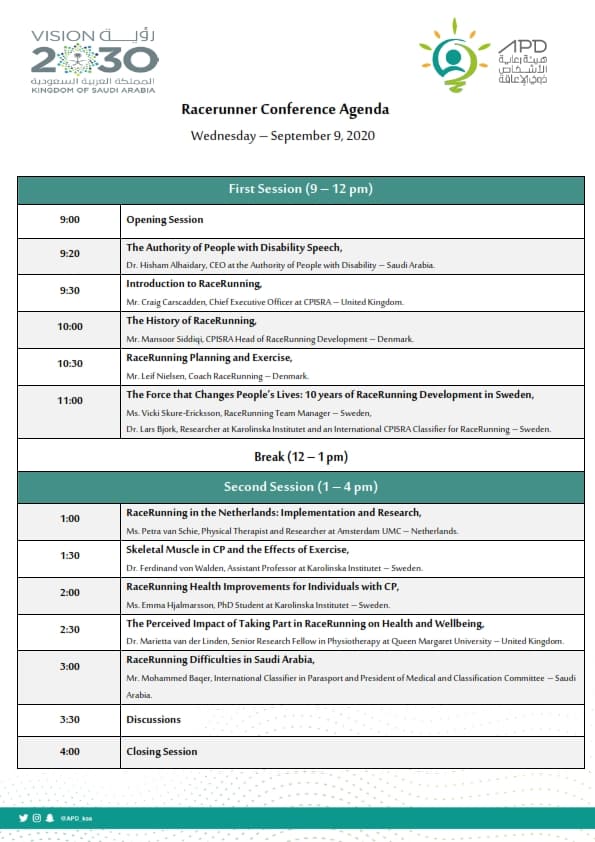 Saudi Arabia started to develop the RaceRunnering in 2019 and they had their first successful international experience on CPISRA Camp and Cup competition in Denmark which they win a couple of the medals for their country, Mohammed Baqer as RaceRunning team manager working on the development of the Sport in KSA by introducing the RaceRunning in different conferences, workshops and sharing his experiences with a local disabled sport clubs in Saudi Arabia and ARABI world.
We wish success to the Saudi Arabia RaceRunning community.