Frame Running running methods of the Frame Runners are not dependent only on the leg functions, has related to the functions of the upper body, too: arms, trunk, and hip sections has an impact on the style. The specific running methods or style used by a Frame Runner /RaceRunner does not necessarily put runners within a particular class in competitions. It could take years to develop strength and proper coordination of any form. How fast they will be able to run also depend on gained control of breathing and aerobic capacity, as well as the endurance of the stomach and gluteus muscles. running methods
The running methods in Frame Running can be divided into three main styles, having some variations within each. Each technique requires a slightly different setup of the bike. The methods are called: Butterfly, Gallop, and Classic Run.
Start point in RaceRunning / Frame Running
Many runners in Frame Running will have problems getting used to the start shot, as it is a sudden loud sound causing a spastic startle reaction. Experience from training shows that use of earplugs and start' with a bullet fired from a long distance away, or a less loud shot will decrease the reaction and enable them to use it to provide immediate forward action and raise their general arousal. Some runners will benefit from listening to music "with a good beat" to get arousal before a race. running methods
Butterfly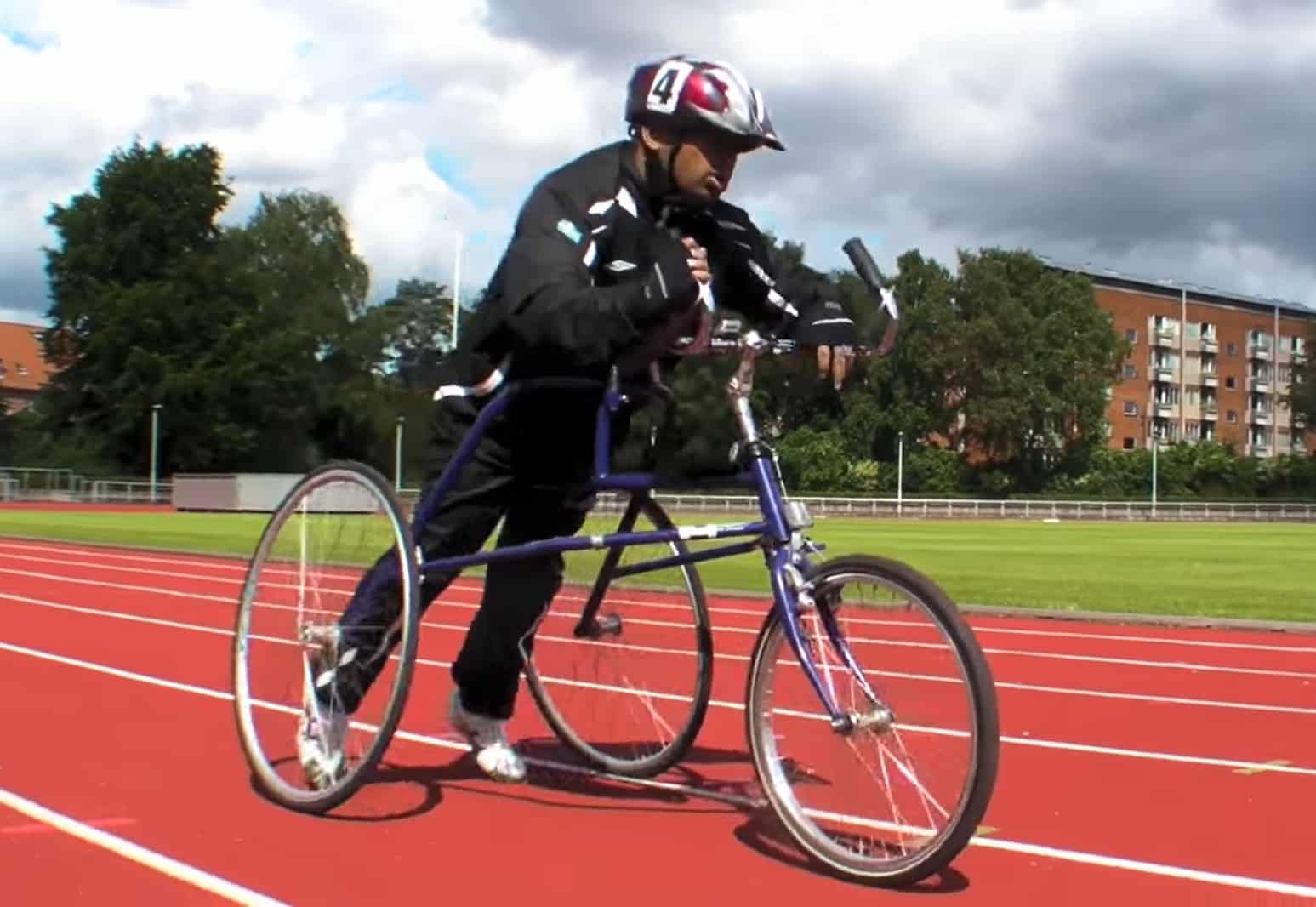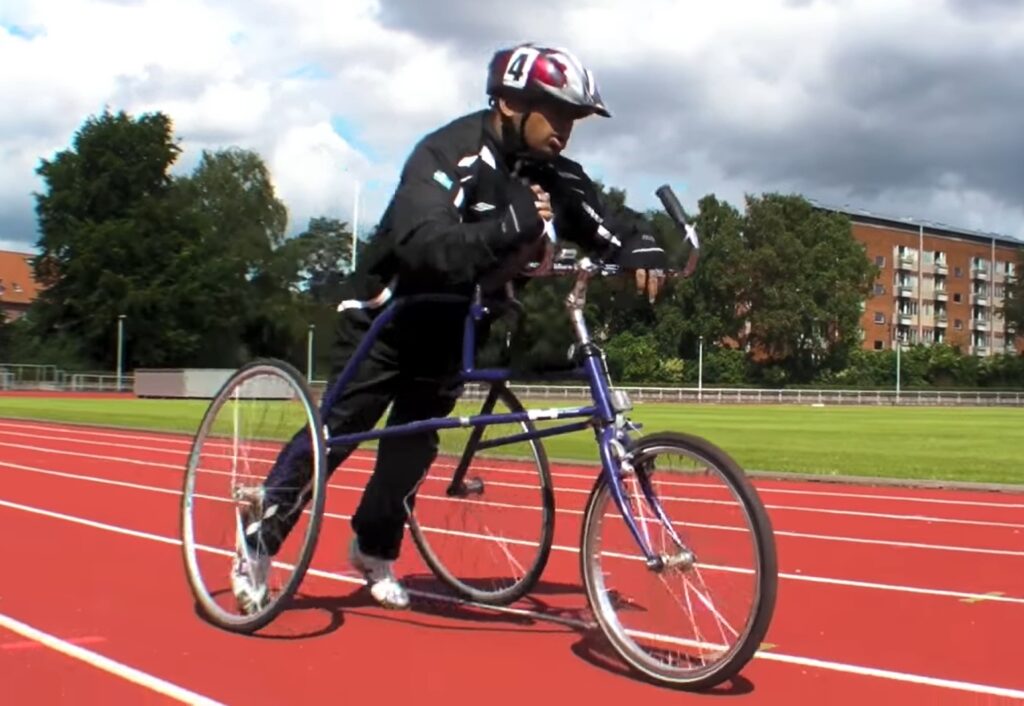 In a butterfly, the body is leaned forward by approximately 40 degrees. One-third of the bodyweight leans on the body support plate. The hips are lifted by pulling the body forward towards the handlebars.
Both the legs are swung forward simultaneously and parallel without much bending of the knees. The stride is short and often rather fast. Hip and leg muscles seem to be tight and stiff. Usually, this results in rapid and superficial breathing.
This technique is mostly used by diplegic spastic runners with none or little active mobility in the lower body and legs.
Gallop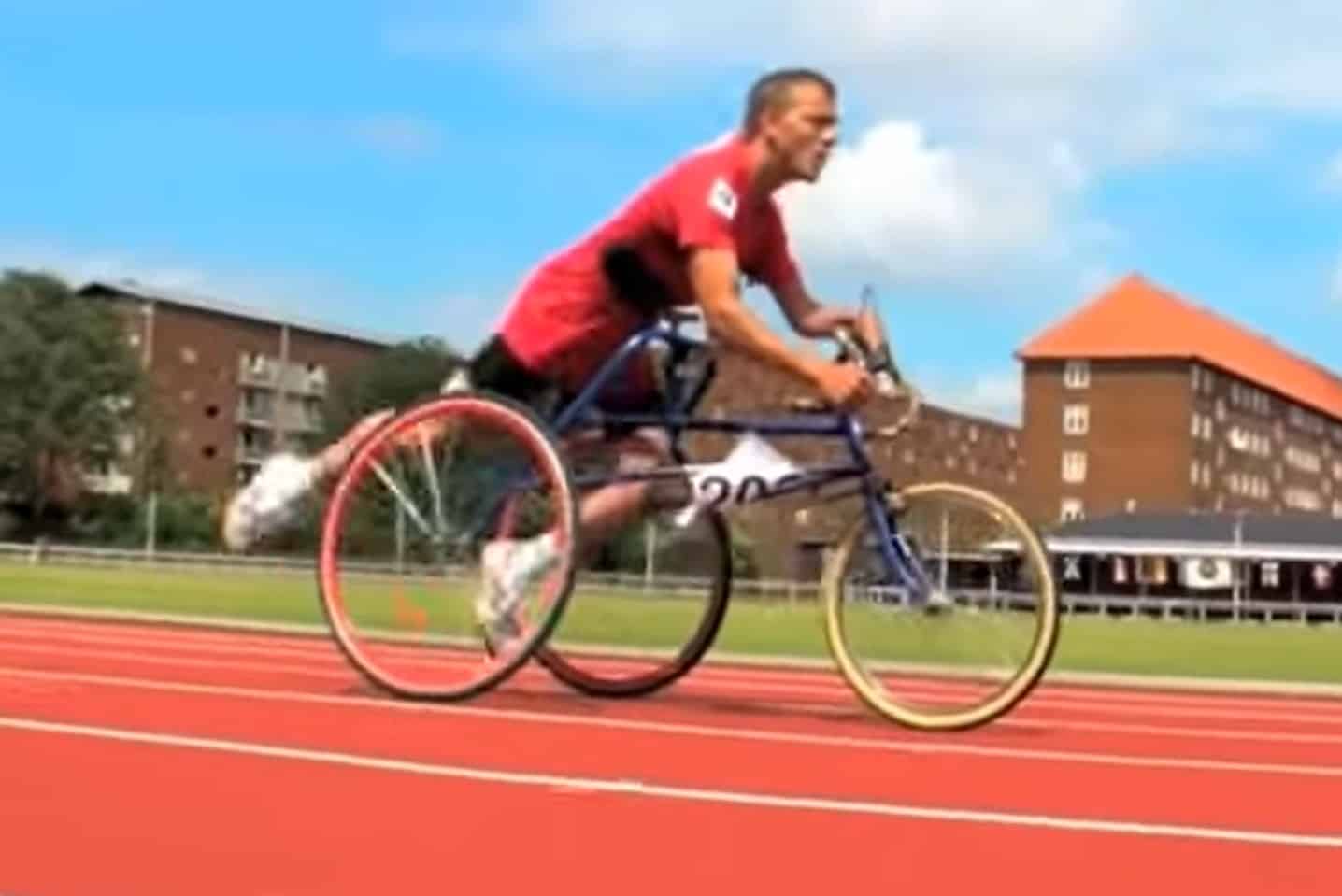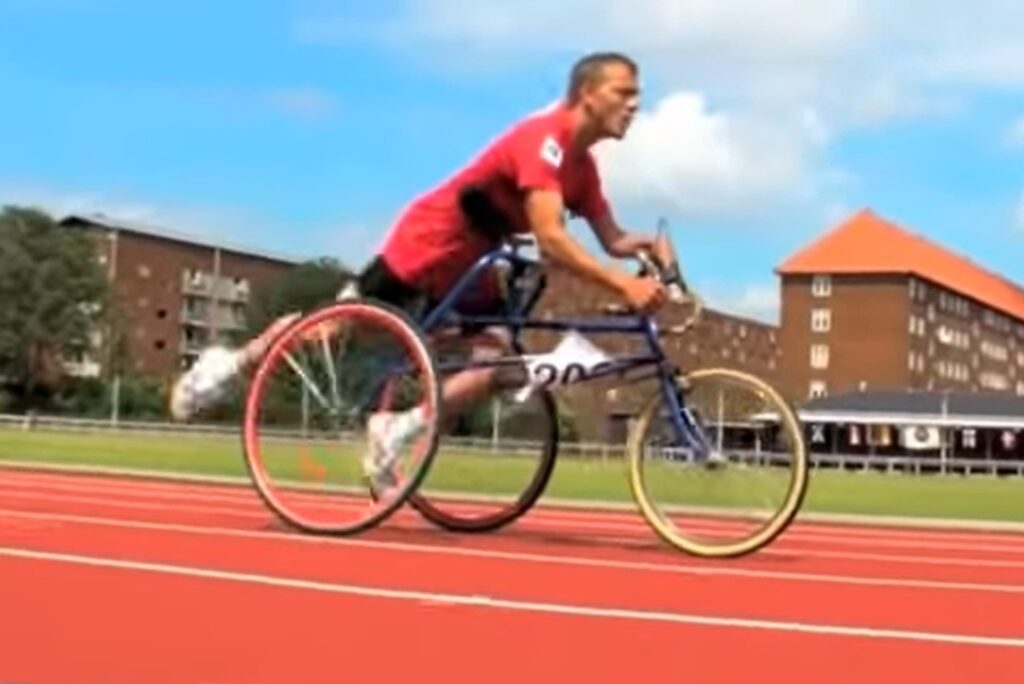 This style in Frame Running reminds us of a galloping horse, all of the weight placed on the body support plate. The body leans forward by 70 – 90 degrees. The upper body is pulled forward and down towards the steering handle using the body support plate as a lever to lift the legs.

The hips are lifted much higher than in the butterfly technique. One foot always touches the ground in front of the other, allowing a much longer and more powerful stride. A lot of the power in the stride comes from the legs' weight as they are slammed into the ground.
To run fast and long in this technique requires good arms and strong back, stomach, and gluteus muscles. There may be a reduced tone in the legs. The breathing rhythm is slower than in butterflies.
Typically there are two double strides per breath and 45- 50 breaths per minute.
This technique is used by spastic diplegic runners having excellent upper body function and functional back/ pelvis mobility but little active mobility in the legs. They may be dominantly hypotonic in the upper body and spastic in the lower body.
Hemiplegic Gallop
Runners in Frame Running with a hypotonic/weak or spastic side – being hemiplegics – naturally work more with the better side of the body. They may be able to use both legs in the start with a standard running style, but as soon as they go fast, the weak side can't follow the better side's rhythm. Then the leg on the hemiplegic side is "hanging" only doing a weak and short stride – if any at all.
Because there is no real contra mechanic momentum of the one leg, the good leg tends to have a slower rhythm but a good follow-through movement. Also, one-legged amputee runners use this pattern. Spastic hemiplegic runners mostly use this technique with one near-normal side and one inferior side.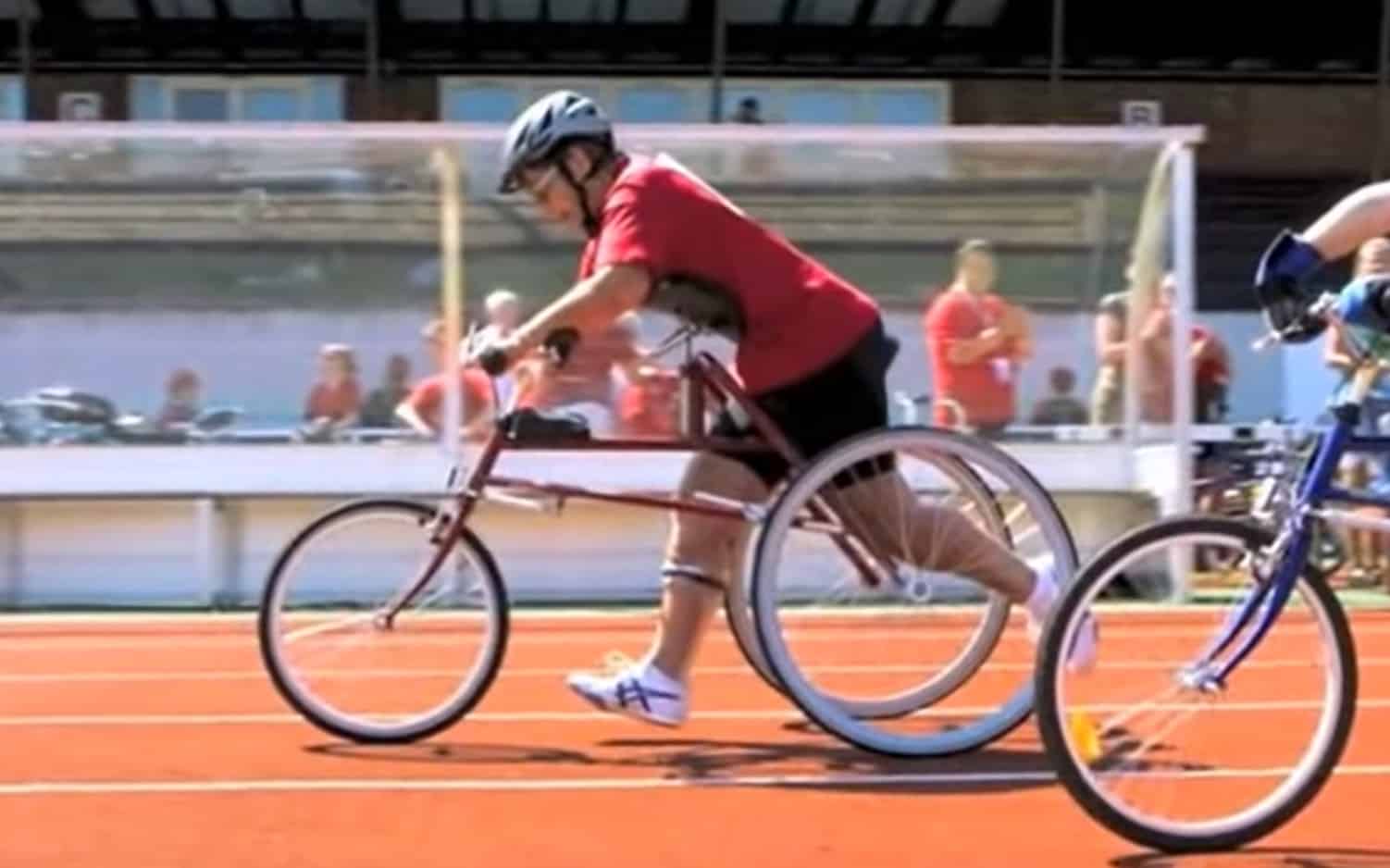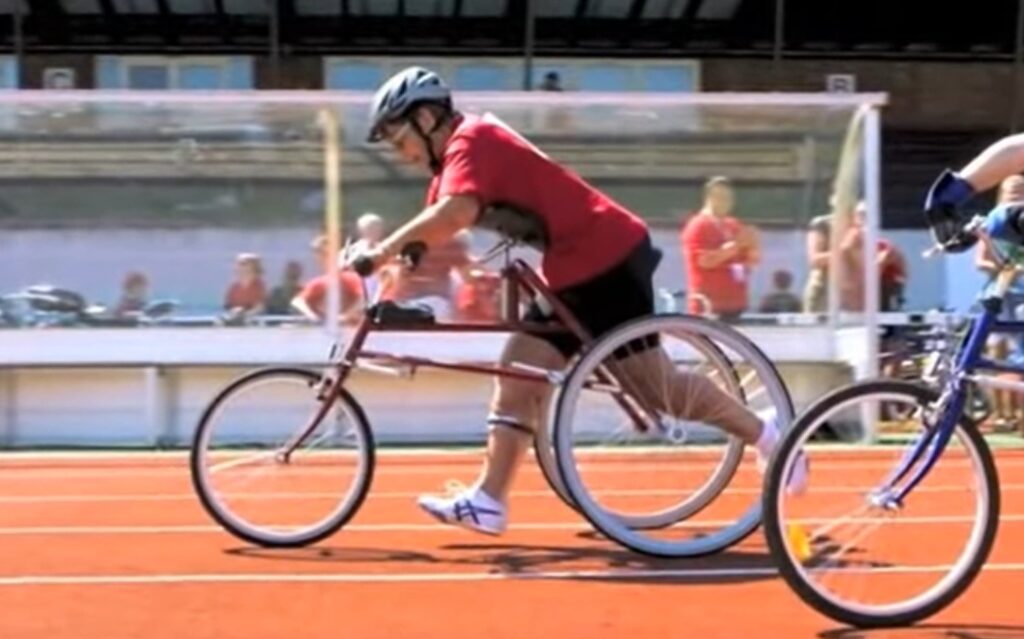 The two legs follow a normal running rhythm in the classic running style in Frame Running. 50 – 70 % of the weight is placed on the body support plate. The body leans forward by about 40 – 50 degrees, and the arms provide trunk stability. Usually, the upper body only has minimal problems. Some may run with a right bend and lift of the knee, while others may not be able to do so.
The breathing rhythm should be approximately 48 – 52 breaths per minute.
This technique is used by less disabled athletes where their cerebral palsy does not hinder fast movements and an almost regular running movement pattern.
Athetoid Classic Run
Some athletes in Frame Running look like they run with a good and long stride, but at a closer look, they are not making a full stride! Nor is it well coordinated! When running fast or attempting powerful strides, spastic reflexes are activated, and an athetoid pattern interferes so that the running pattern is disrupted and inefficient. Runners mostly use this technique with athetoid cerebral palsy that affects all of the body and spasticity in (parts of) the legs, having little control of coordination, especially when doing fast movements. The breathing may be tense and superficial. Other runners may lack strength or be ataxic, causing weak or short strides.
For more videos of Frame Running, please click here to visit our YouTube Channel.