As a new format of the game for those athletes who require walking/gait training equipment, Frame Football has been designed, developed, and trialed with considerable positive feedback from coaches, equipment specialists, physiotherapists, parents, and, most importantly, players.
Piloted in England in 2014, the sport has now spread to countries worldwide as a participation program with hopes that it will one day become an internationally competitive sport. IFCPF is working in partnership with CPISRA to explore further and develop this new football format to give athletes with high support a platform to participate and compete on a level playing field through a game that caters explicitly to their abilities. As a format of football, programs established so far have found the right balance of gender representation.
What is Frame Football?
Frame football is an adapted football form, where children who use a walker/walking frame can also enjoy the football game. In Frame Football, fun and exercise are central.
Frame football can be played on grass, but sometimes it is more convenient to opt for a paved surface such as a sports hall, handball court, or a (hockey) artificial turf so that the children can move as smoothly as possible.
Classification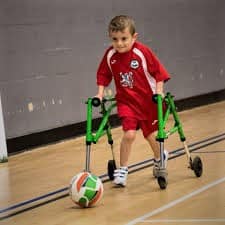 This format is in its infancy; therefore, a formal classification system has not yet been established.
Rule Adaptions
• Small sided with a maximum of 5-a-side played Smaller pitch and goalposts
• Played on a stable, smooth level surface – tarmac and concrete should be avoided
• Two on one rule replaces offside – if two teammates and an opponent are within 3m of the ball while it is in play, an indirect free kick is awarded to the opposition. The only exception is that a goalkeeper can commit a two on one
• Frame contact with the ball is permitted; however, use of feet is encouraged at all times
• Roll ins replace throw-ins
• No offsides
What are the benefits of playing Frame Football?
Supports physiotherapy and exercise through sport
Improve health by participating in regular physical activity
Participation in a team sport with players with similar abilities
Learn team and individual Frame Football skills
Focus on Ability, not a disability
Suppose you would like to initiate and develop Frame Football in your country. In that case, you could contact the IFCPF or CPISRA to receive more information and support to make more opportunities for young players with physical disabilities.